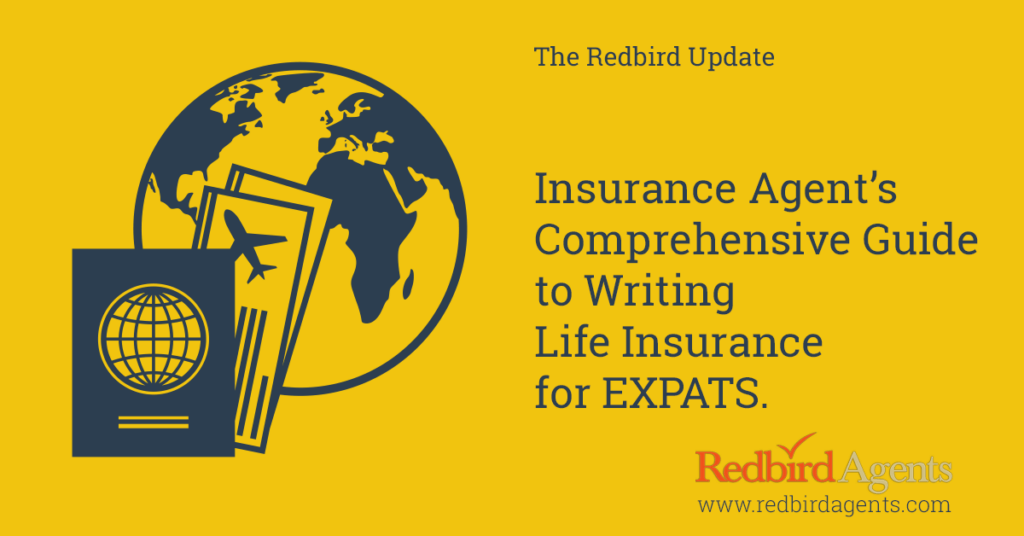 For insurance agents, understanding the intricacies of life insurance for expatriates can be confusing if it's not a core focus.
Expatriates, or expats, are individuals residing outside their home country, either temporarily or permanently. Their reasons for relocating may vary, from work assignments to retirement or a desire for a new lifestyle.
This guide aims to equip licensed insurance agents with the knowledge required to navigate the complexities of life insurance for expats, highlighting key factors influencing underwriting decisions, policy considerations, and strategies to optimize the application process for approval.
The ultimate goal is to provide peace of mind and financial security to expat clients and their loved ones by ensuring appropriate life insurance coverage.
Key Considerations for Life Insurance for Expats
Residency and Citizenship
The expat's country of residence and citizenship status can significantly impact the availability and terms of an international life insurance plan. Some life insurance companies may have restrictions on providing coverage to residents of certain countries due to political instability, high crime rates, or prevalent health risks.
Duration of Stay
Whether an expat is residing abroad temporarily or permanently can affect their eligibility for life insurance. Temporary expats may have different life insurance options compared to those planning to reside abroad permanently.
Occupation
The nature of the expat's occupation may expose them to increased risks, affecting the underwriting process and the terms of the life insurance policy offered.
Tax Considerations
Expats often face unique tax considerations that may affect the structure and benefits of a life insurance plan. It is essential to understand the tax implications in both the home country and the country of residence.
Local Regulations
Each country has its own set of regulations regarding insurance products. Agents must familiarize themselves with local regulations affecting the availability, terms, and tax implications of life insurance for expats.
The Application Process
Gathering Information
The initial step in the application process is all about fact finding, collecting all necessary information about the expat client. This includes basic information such as age, gender, and medical history, as well as expat-specific information such as country of residence, duration of stay, and occupation.
Selecting the Right Insurer
Not all life insurance companies offer international life insurance, and those that do may have varying terms and conditions. It is crucial to choose an insurer well-versed in the nuances of expatriate life insurance and with a track record of approving applications for expats.
Completing the Application
The application must be completed thoroughly and accurately. Any missing or incorrect information may lead to delays or denial of the application. It is essential to disclose all relevant information, including any planned international travel or activities considered high-risk.
Medical Examination
A medical examination may be required as part of the application process. The requirements for the medical exam may vary based on the insurer, the expat's age, and the coverage amount requested.
Underwriting
The underwriting process involves assessing the risk associated with insuring the expat client. Underwriters consider various factors, including the client's medical history, occupation, country of residence, and planned activities.
Strategies for Getting Clients Approved
Understand the Client's Situation
To optimize the chances of approval, it is essential to thoroughly understand the client's situation, including their reasons for residing abroad, the nature of their occupation, and any planned high-risk activities.
Choose the Right Insurer
Select an insurer with a track record of approving applications for expats and a thorough understanding of the challenges associated with insuring expats.
Provide Complete and Accurate Information
Ensuring the application is complete and accurate will streamline the underwriting process and increase the chances of approval.
Proactively Address Potential Concerns
Address potential concerns proactively, such as medical conditions or planned high-risk activities. Providing detailed information about the diagnosis, treatment, and current status of any medical conditions can be helpful.  We always suggest using a cover letter when submitting a life insurance application.
Frequently Asked Questions
Can expatriates get life insurance?
Absolutely, expatriates can secure a life insurance policy. However, it's slightly more intricate than for non-expats. There are international life insurance plans specifically designed for expatriates. It's crucial to choose an insurance provider with experience in life insurance for expats.
Can I secure US life insurance if I reside abroad?
Yes, several US life insurance companies provide policies to expatriates living overseas. Nonetheless, the terms, conditions, and premiums might differ compared to policies for US residents. It's recommended to consult an insurance broker experienced in expatriate life insurance.
What transpires with your life insurance policy if you relocate abroad?
It hinges on your existing policy terms. Some life insurance policies remain valid, whereas others might necessitate modifications or become void. It's vital to notify your insurance provider about your relocation and verify the policy terms.
Does life insurance cover demise in a foreign nation?
Most life insurance policies do cover death abroad. However, there might be exclusions for specific countries or situations, so it's essential to meticulously read the policy terms and seek clarification from your insurance provider or agent.
Can foreigners purchase life insurance?
Yes, foreigners can typically purchase life insurance. However, the application process, eligibility criteria, and policy terms may vary based on the individual's country of residence and the insurance provider.
Here is a full write up on life insurance for foreign nationals.
What occurs to my life insurance if I exit the country?
It depends on your policy terms. Some policies may remain valid, while others may necessitate modifications or become void. It's crucial to inform your insurance provider about your move and check the policy terms.
Can I secure life insurance on a parent residing in another country?
It might be possible, but it depends on the insurance provider and the country your parent resides in. Some providers offer international life insurance policies that cover individuals living in different countries.
What is the procedure for transferring life insurance to another country?
Transferring life insurance to another country may involve purchasing a new policy in your new country of residence or modifying your existing policy to ensure coverage in the new country. It is advisable to consult your insurance provider or an experienced insurance agent for guidance.
What are the advantages of having a life insurance plan if I live abroad?
Securing a life insurance plan while residing abroad offers financial security and peace of mind for your loved ones in the event of your death. It ensures your beneficiaries receive a death benefit, which can help cover expenses like funeral costs, debts, and ongoing financial support for dependents.
What is the distinction between life insurance and term life insurance?
Life insurance' is a broad term encompassing various policies, including term life insurance and whole life insurance. Term life insurance provides coverage for a specified term, usually 10, 20, or 30 years. Whole life insurance offers coverage for the policyholder's entire lifetime and usually includes a cash value component.
What is expatriate life insurance?
Expatriate life insurance is a specialized type of life insurance designed for expats.
It provides coverage for individuals residing outside their home country and may include additional features or considerations to address the unique challenges faced by expats.
How do I secure a life insurance policy if I'm an expat?
To secure a life insurance policy as an expat, consult an insurance agent experienced in expatriate life insurance.
They can help navigate the application process, select the right insurer, and optimize your application for approval.
What does permanent life insurance cover?
Permanent life insurance provides coverage for the entire lifetime of the policyholder. It usually includes a death benefit, paid out to the beneficiaries upon the policyholder's death, and a cash value component, which accumulates value over time and can be accessed by the policyholder during their lifetime.
Conclusion
Life insurance for expats involves complexities that require a thorough understanding of various factors, from local regulations to the specifics of the client's situation. By selecting the right insurer, providing complete and accurate information, and proactively addressing potential concerns, agents can optimize the application process and increase the chances of approval. Ultimately, a well-prepared approach ensures that expat clients receive the financial protection and peace of mind they deserve, regardless of where life takes them.